How would you like it, to have some gorgeous babe spring up to show you a great time after a long day at work? Or having a shockingly pretty lady by your side as you holiday and vacation in the UK? Well, this may sound too romantic or like mere fantasy to most people. Yet, here at Dolls and Roses, we can make this true for you and quite easily. We will introduce you to some of the most alluring women from all parts of the world and they will be more than ready to have an incredible time with you. Wherever you are in London and whenever you want some spice in your life, our escort agency is the to-go-to place. We will make extremely skilled and confident models available to you during your vacation to ensure that you don't have even one boring day while here.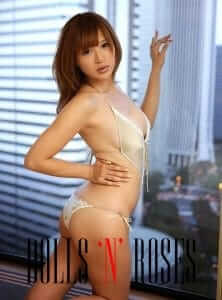 Our escorts are intelligent, classy and sophisticated so you can be sure you will not be dealing with unpolished women who don't know how to behave. We understand that a lot of gentlemen out there like you might be wondering whether escorts can be trusted; we are here to guarantee you that our girls are some of the most trustworthy women you are yet to meet. They love their jobs very much, have a passion for it actually and would never do anything to jeopardize it. They are ultimately respectful of their clients as well as themselves so you will be dealing with true ladies here. At Dolls and Roses, we assume full responsibility for our girls but we are very confident in them and their services. One of our core values is discretion because we understand as a client you revel in it. All our staff from the receptionist to the escorts themselves are very discreet and your privacy will be well adhered to.
We are a very organized and authorized agency offering domestic and international quality services to elite gentlemen. We take very special care of our ladies and always keep them happy providing them with their desires so that they will always be ready to please the clients. We take very good care of our clients as well giving them 100% of our devotion so they can become return customers.
You will be glad to know that our ladies are well educated; most of them are business women and real models who have a passion for escorting and do it not because they need the money. They are respectable women and both of you will have things to learn from each other. You will have interesting conversations with them since they are very smart and you will greatly enjoy their company.
Reasons why you should hire from Dolls and Roses
Our services are highly recommendable because we have some of the most impressive ladies in London and in abundance. Most of them are multi-lingual and very professional in their manner of speak. Here at Dolls and Roses, we have;
Adorable escorts from different ages
Well-mannered and educated women
Economic and realistic charges per hour
Special services like oral, strip tease and erotic massage
GFE experiences
Round the clock services Reliable and very timely services
Medically and physically fit escorts
These are just some of the reasons why you should hire with us and if you want a first class luxury service, then look no more. We customize our services to our clients needs so you can be sure that you will get exactly what you want from us. Call and book an escort from Dolls and Roses today.