When men come to seek the services of an escort from Dolls and Roses, we usually notice a lot of ranging sentiments and preferences. There are those who prefer to be with slim and tall escorts. Others like to be entertained by a busty damsel. These varying tastes reflect the reality of an old adage; "beauty is in the eyes of the beholder". Men have different tastes depending on their past experiences with the girl of their choice. It could be your first girlfriend was a drop dead blonde who knew how to please you in many ways. So even after time has passed, you feel you still need to be in the company of a sexy blonde to fulfill your needs. Others' inclination towards a certain type of girl with specific characteristic is just because of an in-born obsession with such women. So whatever your taste, busty or petite, Dolls and Roses has both of such women and they are found in plenty. A client would feel the action is missing if he is not hooked up with a girl of their choice. It is for thosereasons that we commit ourselves to providing our clients with girls matching their exact requirements and specifications, so that they can enjoy blissful moments and experience a truly erotic and satisfying time.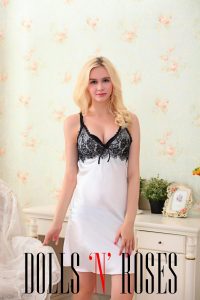 A huge number of clients prefer to be with busty women. In response to this strange addiction, our agency has ensured we have a good number of such women lined up all for you, waiting to be booked. Imagine yourself watching those adorable twins perfectly set in a tight fitting dress on your diner date or to any event you choose to take her. Such a lovely company by your side not only enlivens your mood but keeps you entertained and amused. These are not surgically modified busts; the girls' busty figures are all very natural. After passing through the selection process, we also train the girls on how to pose for photo or video shoots as well as ways on which to maintain professionalism when dealing with clients. Dolls and Roses escorts go beyond the extra mile to ensure your stay in London becomes a memorable one.
Aside from the strange addiction to busty figures, there are also clients who prefer petite sized women. Our escorts who are size 6 or 8 are available in plenty if you belong to these criteria of men. A petite sized woman will look good in a sexy lingerie, bath robe or evening dress. Our petite escorts provide both in-call and outcall services for their high-end clients and their rates are very affordable. By parading a variety of girls; from busty to petite sixed, we provide our clients with a wide selection to choose from and sometimes others have even consulted the receptionist, since they feel lost for words when it comes to choosing an escort. In such a case, we will be pleased to lead you on.
Great personality is also a quality we look for when selecting our escorts. The models are not just beautiful but possess a bubbly and outgoing personality. They brace themselves up for the work they are doing; offering their all since customer satisfaction is their top priority. A high level of intelligence also makes them a perfect match for any event you might want them to accompany you to. Fill in the online booking form and see how you can explore so many delightful pleasures this city has to offer. Dolls and Roses busty and petite beautiful women are waiting for your call.