For some gentlemen the opportunity to spend private time alone with a beau tiful woman is something to be savoured and so the regular escort companions that most agencies provide are simply not enough. At Dolls and Roses, our model escorts are deliciously exclusive to us and combine high class and glamour to gentlemen in all the major cities of the world.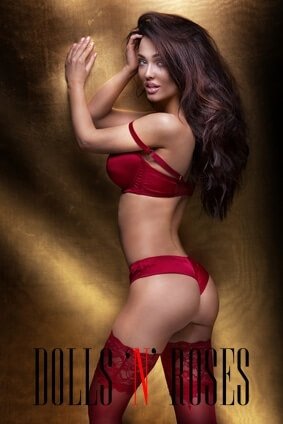 Sexy brunette woman posing in elegant lingerie, looking at camera. Girl with perfect body.
Our model escorts are a particular favourite for busy and successful individuals. There is never any fear of rejection and the time and emotional investment needed to pursue and maintain a long term girlfriend is usually something that these gentlemen simply do not have so when the chance arises to enjoy a naughty encounter with a stunning beauty, it needs to be grabbed with both hands.
At Dolls and Roses, your need is our pleasure. We understand the lifestyle of our typical clients and we aim to ensure that our services meet their needs. When a client is constantly busy with his career, jetting across the globe on a regular basis, there often is not time to be able to think about others and so a long term commitment can be a distraction at best and detrimental at worst. It is so much easier for a client to be able to pick up the phone, state his needs and location and have the object of his desire arrive at the given time. He can then enjoy his evening and live for the moment however once that moment has passed he can go right back to concentrating on his work or whatever else he needs to focus on without any worry of 'I'll call you'. For highly successful gentlemen the chance to date a supremely beautiful woman with none of the strings attached will fit in with his disposable lifestyle although it is not just highly successful businessmen who delight in our services.
A Model escorts is called such because she is breathtakingly beautiful. There are, of course, many other escorts in any city at any given time but sometimes a client may have a specific need to impress and so request the company of a gorgeous Model escort. Dating a woman who is prized for her looks will of course attract a premium. You are choosing this particular escort over another because of the way she looks20and so this will mean that her hourly fee will usually be more than a regular, pretty but not jaw-dropping astounding beauty. Model escorts, in our experience, are requested for public engagements like dinner dates and red carpet events. Clients like to arrive and be the centre of attention with a stunning woman on his arm. The fact that our high class escorts are so exclusive means that it is unlikely that anyone will know her and so the term 'unnamed blonde or brunette' is tagged onto society photos of well known clients.
Even though many of our clients book our ladies primarily for their beauty, all our girls are not just pretty faces. We aim to ensure that our escorts are highly educated and on a level20mentally with their clients. This is why so many of our clients return time after time. They initially start out looking for arm candy to attend a prestigious event and end up enjoying the company of the lady so much that they will book her again and again. Dinner dates are always a popular choice for returning clients and the chance to enjoy a private hour after the meal is one that most cannot refuse.
Dating one of our model escort girls is the chance to ensure that you spend your free time with a woman of your choice. It offers the result without all the hassle and emotional stress of the dating game and takes away all of the uncertainty that can take up so much time. For gentlemen who have extremely stressful lives through their work this offers one area without such demands and only the benefits to enjoy so if you are looking for a sexy date who offers nothing but pure pleasure then do call our high class agency and speak to one of our team members who can find out your needs and match you with the most suitable companion for you.